Transitioning from a current state to a future state in the context of an organisational or business transformation could be a lengthy process and might require diverse delivery methodologies and frameworks, including a dedicated project management office ("PMO").
The professional services sector, including project and programme management communities, support several distinct delivery frameworks, including Waterfall, Agile (Scrum), Six Sigma, Lean and smaller strategic tools.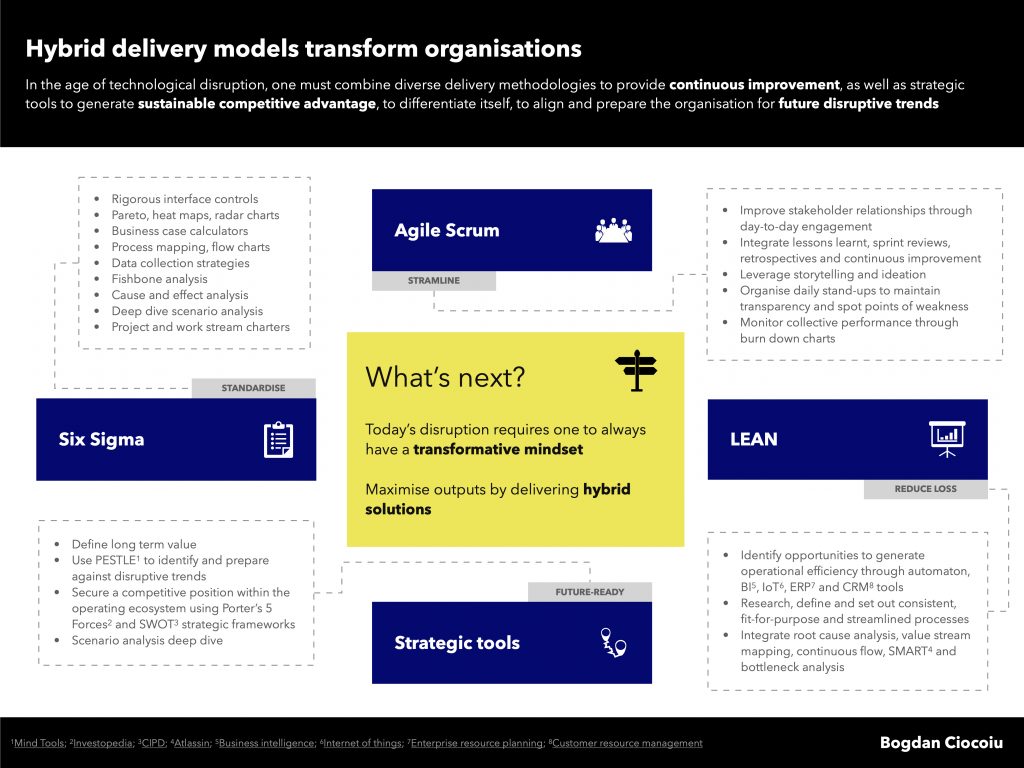 Example of delivery methodologies
I recommend the delivery methodologies, instruments and frameworks for the following benefits:
Six Sigma delivery tools
Creates and manages rigorous interface controls
Leverages Pareto, heat maps and radar charts
Encourages for the use of business case calculators, process mapping, flow charts and project or workstream charters
Creates data collection strategies
Leverages fishbone analysis as well as cause and effect, and deep dive scenario analysis
Agile delivery methodologies
Seeks to improve stakeholder relationships through day-to-day engagement
Integrates tools such as lessons learnt, sprint reviews, retrospective and continuous improvement
Leverages storytelling and ideation and set objectives and goals (also defined stories and epics)
It relies on daily stand-ups to maintain transparency and spot areas of weakness
It introduces burndown charts to monitor individual and collective performance
LEAN delivery instruments
It focuses on identifying opportunities to generate operational efficiency through automation, business intelligence, the use of enterprise resource planning ("ERP") and customer relationship management ("CRM") tools, as well as the emerging internet of things.
The framework is centred around researching, defining and setting out a consistent fit-for-purpose streamlined process to sustain day-to-day operations
It integrates root cause, value stream mapping, continuous flow and bottleneck analysis methods, and it encourages the use of SMART objective setting
Other strategic tools
Specialises in setting out the long term value for the organisation
It leverages PESTLE, and it prepares the organisation for future inflight disruptive trends
It leverages Porter's five forces and SWOT strategic frameworks
It introduces scenario analysis deep-dives
These frameworks are somewhat distinct. Delivering a project or a programme requires selecting the specific instruments suitable for that project or programme only and leveraging those during the delivery phase's lifecycle.